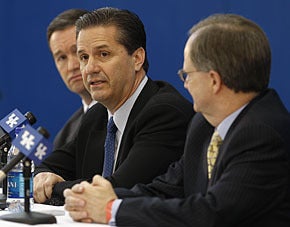 John Calipari is the new coach of the Kentucky Wildcats and he's going right to work. Step One: Managing expectations.
Kentucky athletic director Mitch Barnhart began the introductory press conference by reading Calipari's entire resume in an effort to convince himself that giving his basketball coach an eight-year, $31 million contract was a totally justified financial maneuver. Then Calipari spent most of the morning explaining to Kentucky fans that their favorite team probably won't go undefeated next season. He explained his coaching style (basically, "recruit talent and let them do whatever they want") and dropped as many old school hoops names as he possibly could to let everyone know he GETS IT. He's a family man. His wife tutors kids! His grandparents came through Ellis Island!!!! Why can't you see how freakin' humble this guy is?
So yeah, Kentucky is the new Memphis and if they're not in the Final Four in two years they'll be calling for his head.
Calipari embraces the Blue [Lexington Herald-Leader]