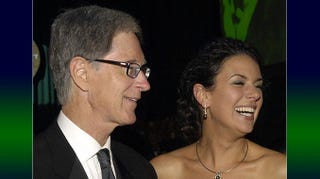 John Henry's status as one of the architects of the Red Sox revival period has paid off handsomely for his wallet and his love life, as he's set to wed 30-year-old Linda Pizzuti.
Pizzuti is some sort of real estate person and has been engaged to Henry since December. The couple sent out save-the-date wine bottles for a June wedding to friends and family. Henry, 59, divorced in August of 2007 but that didn't stop him from getting re-hitched a little over a year later. No time for mid-life Maserati purchases and orgies when you fall in love, I guess.
And Henry now has something in common with Richard Williams, 67-year-old father of the Williams sisters (and other less famous children) who invited 30-year-old Lakeisha Graham to take a ride on the Serena and Venus cash cows for all eternity.

Yes, I'm sure there won't be any squabbles over the will or future earnings after Richard dies.
John Henry Likes 'Em Young [310 To Joba]
<a href="
">Richard Williams and New Chick [Bossip]