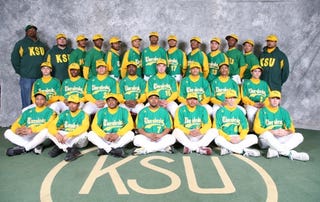 I know this seems like an April Fool's prank, but I'm reasonably certain that this actually happened today—Eastern Kentucky beat Kentucky State in baseball by a score of 49-1. In five innings.
Why does it look legit? Well, tiny Kentucky State (Division II) has several double digit losses on their schedule this season. (They are 2-15 on the year.) Their team ERA is 11.56—and that's not counting the runs allowed on their 61 errors in 17 games. The Thorobreds (they even spell their mascot name funny) are how do you say ... not good.
Pity poor freshman pitcher Jamal Duncan who gave up 25 runs (14 earned) in 2.1 IP. Or JamalKendall Wilson who gave up 13 while only getting one out. But kudos to EKU for dominating Kentucky's lower level baseball empires. John Calipari has his work cut out for him.
Eastern Kentucky University Baseball Schedule [EKU Sports]