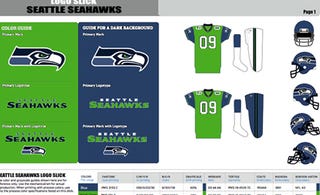 The new neon green Seahawks alternate jersey, shown here assaulting our senses so completely, turns out to be a joke, perpetrated by those rascals at Uniwatch Blog.
From Uniwatch's Jeremy Brahm: "I was part of the five people over at Uniwatchblog who put on the fake Seahawks uniform. Paul Lukas did the writing, and Paulie Soto did the artwork. Phil Hecken and Michael Princip were also involved." This is the team, by the way, that in 2007 came up with this.
April 1 is a minefield, I'll tell you. Even though I first saw the item on April 2.
Now if you could just wear that jersey with this helmet, you'd have something; what, I have NO idea. Tampa Bay Buccaneers, you are now off the hook.
And by the way, the Los Angeles Times is predicting that there's a good chance Mark Sanchez will be wearing these duds.
Seattle Seahawks Uniform History [Greenarts Mag]
In Which I Go Away for A Few Days And The Whole World Goes Down The Crapper [Uniwatch]