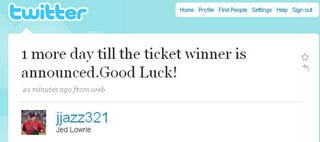 Unless you're clever or funny, creating a fake Twitter account is sort of a waste of time. Take, for instance, the fake Twitter account of Boston Red Sox shortstop Jed Lowrie.
Lowrie's fake account (as determined by the intrepid Texy of Center Field) has apparently been trying to dupe dimwitted followers into thinking they could win free Red Sox tickets by doing something or going somewhere, ala The_Real_Shaq. Last night, "Lowrie" twittered that there was only one day until the "winner" of the tickets would be announced. One problem: the real Jed Lowrie was in the middle of an exhibition game against the Mets last night at the time the message was posted via computer (as opposed to via cellphone, which he conceivably could have had in the dugout — I guess). Oops. Next time, if you're going to go to such a pointless attempt at fooling people, you might as well actually get the timing down.
PS: You can follow Deadspin on Twitter, too. And you should.
Jed Lowrie Twitters During Red Sox/Mets Exhibition Game [Sox and Dawgs]
Twitter Faux Pas [Center Field]