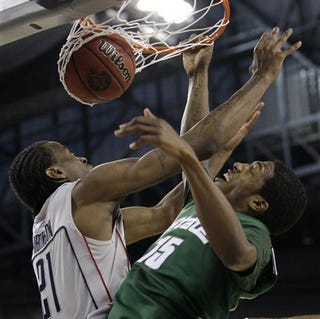 Oh, did something happen last night? Right ... the basketball games. I almost forgot about that!
You know I'm usually not one for trash talking, especially after the fact, but ... screw the Big East. The "greatest conference of all time" had three number one seeds this year and the ugly, brutish Big Ten beat two of them. Easily. And they scored 80 points doing it. (Sorry, Digger Phelps!) They don't play that way because they can't play any other way—or because Leitch and I enjoy it so much—they play that way because it works.
Now that I got that "no one believed in us" crap out of my system, I can just sit back and enjoy Monday night. I don't know if Michigan State can beat North Carolina, and I don't really care. The Tar Heels are finally starting to look like the team that dismantled the Spartans back in December; I just hope it will be closer than 35 points this time. But everyone knew they were the best team then and everyone knows they are the best team now and if UNC wins the title, so be it.
Because I do believe they are going to play the second-best team in the country and I'm just glad that State was able to prove it. I didn't get to Detroit this weekend or get alcohol poisoning on Cedar Street, but I think my downstairs neighbors know what's what. Plus, the Spartans sent a message and the State of Michigan got at least one nice victory—and three million new jobs, right?—and that's enough for me this year. Big bad UConn got pushed around last night and the looks on the players' faces as that realization slowly came over them was all I needed to see.
Police disperse Cedar Village crowd; few incidents reported [The State News]