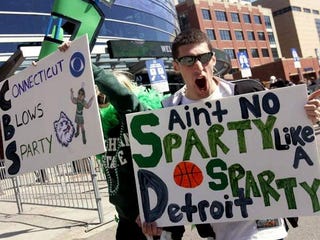 Got an image you'd like to see in here first thing in the morning? Send it to tips@deadspin.com. Subject: Morning crap
America is supposed to be rooting for Michigan State tonight because, according to some articles I've read, it could very well save the auto industry and save the country from being swallowed up by a depression. Plus Michigan State fans know how to get their crude signs in front of the Freep photographer. You have to give them that. Also, well, there's Dash. I hear he has a rooting interest.
Good morning. It's Monday. It's raining in New York, but it's still Opening Day in America. So go crazee folks. And why can't The Runaways be 19 forever?