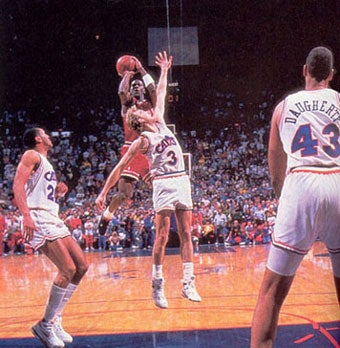 The Basketball Hall of Fame announced its 2009 class today, which means that Michael Jordan is finally getting some kind of recognition for his basketball career.
Do you think Jordan is actually excited about this? The guy is almost universally recognized as the greatest player of all time. NBA players who were not even born when he started his career still wear his image on their shoes. It's not like there was any question about whether he would get in or whether he deserved it or what would be written on his plaque. It's more a formality than anything, but if doesn't come with a free round at Pebble Beach I wonder if he'll even care.
He'll also be joined by David Robinson and John Stockton who must be super excited to have their amazing careers overshadowed once again. (Coaches Jerry Sloan and Vivian Stringer made it too.)
Hall of Fame opens its doors to greatest ever [Yahoo]
Jordan, Robinson, Stockton among 5 elected to Hall [AP]
P.S. He pushed off.