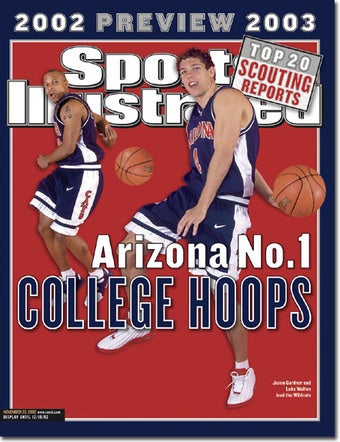 Dan Wetzel is now reporting that Sean Miller changed his mind and will take the job. I guess this post convinced him.
Xavier's Sean Miller is the second coach to turn down the Arizona Wildcats head coaching job in a week, a gig that—in theory—should be highly coveted. So what's the problem out there?
Obviously, the legacy of Arizona hoops begins and ends with Lute Olson, but he did leave a pretty decent foundation to build on. This year's team barely snuck into the NCAA tournament and then made the Sweet 16, and that was considered a down year. They have the budget and fan base to match the biggest programs in the country. Their conference is challenging enough to be respected, but not so tough that you can't compete every year. Their student body is legendary for its, um ... desirability. The weather is hot, but it's a dry heat. Are USC and Xavier really such awesome properties that you would turn that down without much thought?
Now we don't know the details of those offers—reports were between $13-15 million for Miller—so maybe Arizona is being stingy with the cash. And Miller does have a good thing going at Xavier, so there's no need for him to jump ship without a very attractive deal. But it is curious that the school is having such trouble filling the spot. They've had three coaches turn down the job since October. What's worse, they're holding up the works in the coaching carousel. (Their next target is likely Utah's Jim Boylen.) Just hire the Hoff and we can move on with our lives.
Miller reportedly rejects UA job offer [Daily Wildcat]
Miller spurns 'Zona, expected to stay at Xavier [Fox Sports]
Miller takes Arizona job [Yahoo]