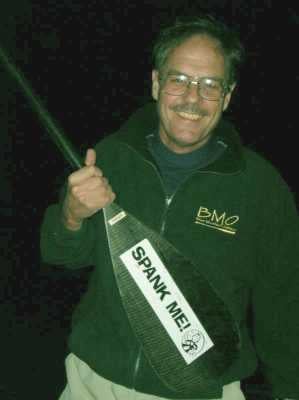 So you've quit the high school football team, and now you want to come back. OK, well, this being Texas, you'll need to drop your pants for a rather brutal paddlin'.
A Lincoln High School (Dallas) varsity football player was struck on the buttocks and lower back 21 times with a canoe paddle , by as many as seven different coaches, in order to return to the team, according to a school district report. Former head football coach Jerry Sands (not pictured), who came up with the paddling idea, is on paid administrative leave.
Lincoln coach Tyson Garner, who witnessed the paddling, stated in an affidavit that Sands gave the student about four licks before the board cracked at the base. Garner said another coach mended the board with athletic tape and gave the student five quick licks that were milder than the first four, seemingly to try to conclude the punishment.

But Sands "proceeded to continue the licks," according to Garner. After the paddling, some witnesses heard Sands say, "What happens in the room stays in this room," according to the report.
Apparently there is ready access to canoe paddles in Dallas public high schools; a development which surprises me. Lincoln's thriving canoe program is the envy of the district, no doubt.
Despite this, Lincoln Principal Earl Jones, who at first only gave Sands a verbal reprimand for the incident, was given a 20-day suspension and was reassigned to another campus.
Coincidentally this will now be the new punishment for losers on Around The Horn.
Report: Coach Beat Student 21 Times With Paddle [Houston Chronicle]
Paddling Incident Timeline [Dallas Morning News]
DISD Investigation Finds Lincoln High School Coaches Paddled Student Up To 21 Times [Dallas Morning News]