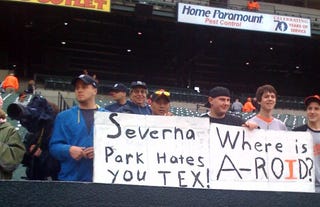 The weather looks fine for the Orioles home opener today against the Yankees (4 p.m., ET), with the forecast calling for scattered clouds, variable winds and a 95 percent chance of heavy cursing at Mark Teixeira.
In fact, the Teixeira hate has already begun. From the Baltimore Sun:
At 1:40 p.m., Mark Teixeira emerged from the Yankees dugout to do an onfield interview for the YES network. There weren't many fans here, but those gathered around the Yankees dugout made themselves known. "You're a sell-out, Mark!" one screamed. "We hate you!" said another.
That should only be the beginning for Teixeira, who chose to sign with the Yankees over his "hometown" Orioles over the offseason. So peeved are O's fans at Teixeira that there has even been a song written for the occasion. The Boooog Powells have written "Boo Teixeira," a ditty which includes the stirring line:
Now Yankee fans think that they can take us,
But guess what chumps, we've got Nick Markakis ...
Video below.
At least all of this Teixeira hate takes the heat off of Joe Biden.
A fun Teixeira quote to leave you with:
"In a perfect world, the Orioles would've won the World Series every year I was alive, and I'd be an Oriole right now," Teixeira said. "I have so much love for this city, for this organization. But in the business world, in the baseball world, sometimes you have to make difficult decisions. When it came down to it, the Yankees were a better fit for me."
I won't comment on that: I'll leave it up to you.
Mark Teixeira Has No Regrets About Choosing New York Yankees Over Hometown Baltimore Orioles [The Star Ledger]
Teixeira: In A Perfect World, I'd Be An Oriole [Baltimore Sun]