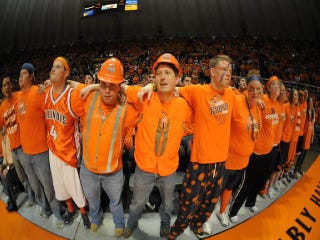 It turns out that Emeritus and his magic orange protective helmet will be on television tonight as part of Coke Zero's pre-game festivities. Get your DVRs ready.
Black Sports Online reveals the awkward details:
Coke Zero has just put the finishing touches on it's new "Taste the Madness" TV commercial. Airing right before tip-off of the NCAA Championship game on Monday night, the spot features videos and photos uploaded by fans to http://www.tastethemadness.com (there were over 1,000 submissions).

There are 61 fans who will be featured in the commercial, representing schools such as Duke, Arizona State, University of Kentucky, University of South Carolina, Iowa State, Florida A&M, and University of Illinois.
So that should be fun. Plus! Immediately after it airs, Matt Sussman, live blog Iron Chef, will mesmerize and comment-provoke with his fantastic Bingo cards and commentary. He will also be wearing a magic orange protective helmet.
*******
Thank you for your continued support of Deadspin and all of its soon-to-be adopted children. Like Elihu.