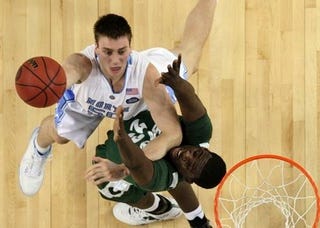 All week long we heard about how much this game meant for the city of Detroit. Since the "Detroit" team was left a humbled, burned-out shell of its former self, I'd say that's appropriate.
The frustrating Michigan State team returned—the team that beats itself with bad decisions and worse shooting. They didn't lose a lot this season, but when they did lose, they lost bad and tonight was no exception. I guess the Spartans did better than they did in the December matchup, but not much. They were out of this game four minutes into it and I guess they didn't give up, but they certainly never had a chance. Sigh.
Make no mistake, though—North Carolina is awesome. With everyone on board, they were one of the most complete teams you will ever see. They made winning look effortless. Even if Michigan State cuts their turnovers in half and makes a few more threes, they probably still lose by 10. Obviously, we all would have preferred a more competitive final, but this outcome was inevitable from the first practice way back in October.
So the best team won, Michigan will go back to being a depressed and lonely place, and I just hope that somewhere in the student ghetto of Cedar Village, thousands of drunkards will refrain from embarrassing the Michigan State name one more time. Try to keep the fires under control, kids ... it's a school night.
SN on streets of East Lansing: "Everyone appears to be in good spirits." [The State News on Twitter]