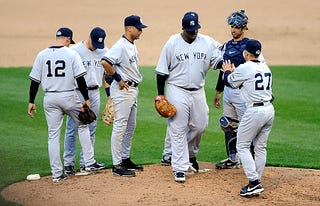 The Yankees offseason maneuvers are a complete and total disaster. They might as well have taken $340 million and dumped it in the Harlem River for all the good it did them. What a disgrace.
C.C. Sabathia ($161M) gave up 6 runs in 4+ innings and Mark Teixeira ($180) put up a big fat 0-4 doughnut and the Yankees were eliminated by the Baltimore Orioles, 10-5, yesterday. Pathetic, really. All that talent and money .... wasted. Why did they ever leave Yankee Stadium?! Trade them all and let God sort it out, I say.
look, i realize its only the first game of the season, but most of you that say this i cant stand to hear. this is all you said last year the ENTIRE FIRST 2 MONTHS. every time we'd lose, oh its only one game, oh theres still 4 months left, oh its only the first half. look, you guys said this same BS garbage last year and we missed the playoffs.

1 GAME NOW, is the same as ONE GAME IN AUGUST. all games count as either 1 win or 1 loss, get it straight.

quit playing down losses just because its early, i mean the way you guys post its like a win in august counts for 2 or something. this is why i stay away from the boards during the season. all these posters bash people who react to losses if the season is only 2 months in, but these losses matter. and the only reason these posters do this is to psycologically relieve themselves of stress knowing the yankees are dropping games by rationalizing the losses as not a big deal in their norman bates brains.

YOU PLAY TO WIN THE GAME. A WIN IN APRIL IS THE SAME AS A WIN IN SEPTEMBER. THE GOAL IS TO WIN GAMES.

stop rationalizing losses.
Thank you, reasonable and anonymous message board poster! Hey Yogi ... it's over.
And they aren't the only ones. The Tigers best pitcher's arm fell off, St. Louis lost to the freakin' Pirates, I'm not even sure if Cleveland has a baseball team anymore, and the Red Sox and Devil Rays aren't even allowed to play games! The only bright spot on the planet is in Seattle, of all places, where it is now 1995 again. Baseball is ruined! Woe betide us all!
Oh, right ... 161 more games. Still ... EVERY GAME COUNTS!
YANKS' BIG-MONEY MEN MAKE POOR IMPRESSIONS [New York Post]
CC Sabathia's first-game struggles make for eye-opener for Yankees [New York Daily News]