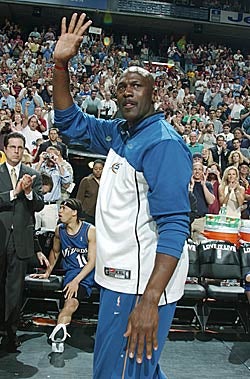 Yesterday, I implied that Michael Jordan's reaction to his Hall Of Fame induction might be indifference or dismissal of such a trifle, but it was even worse than I imagined. The guy is actually insulted!
Jordan is seriously upset that the Hall of Fame would induct him into their shrine, because that implies that the voters believe his career to be over ... which it has been. For years. He knows those Wizards games actually counted, right?
"This is kind of a love-hate thing for me," Jordan said. "It's a great compliment and great respect, but for me, I always wanted to be able to have you think that I could always go back and play the game of basketball. As long as you have that thought, you never know what can happen. You never know what my abilities can do."

"So to me, the Hall of Fame is like, it's over and done with. You can't ever put a uniform back on. It's the total end of your basketball career. It's a great accomplishment and I know I don't walk away from it, but I didn't want to be up here so quickly.

"I wanted to be up here when I was 70 years old, 80 years old. But I'm 45 and I still think I can play. You guys don't know if I can or can't, but at least I've got you thinking that way."
Oh, sweetheart. Trust me ... no one thinks that way.
Jordan Not Thrilled About This Hall of Fame Stuff [The Sporting Blog]
Induction a 'love-hate thing' for Jordan [Philly Inquirer]