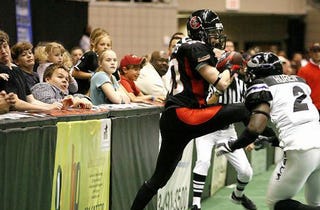 If there's one thing I'm sure of, it's that the new Indoor Football League is completely safe for both players and fans. But then I'm still holding on to Enron stock.
For those who haven't been keeping up with the most awesome pro football league in the world*, the IFL has just began its season this past weekend (what could we possibly be competing against?), having been created from the merger of the Intense Football League and United Indoor Football. The reason I bring it up is because I'm always interested in the continuing exploits of former Dallas Cowboys quarterback Quincy Carter, who is determined to keep his comeback going no matter what.
Georgia grad Quincy Carter threw four touchdown passes, two each to former Abilene Christian wideouts Jerale Badon and Chris Morris, to lead the Abilene Ruff Riders to a 39-24 win over the Odessa Roughnecks before 3,982 at the Taylor County Coliseum.
Carter of course has played in every pro football league ever invented, and was even drafted by the Cubs. Drug problems helped derail his NFL career, but he's trying to make it back there. In the meantime, why not enjoy a Ruff Riders game, but I wouldn't suggest bringing a small child if you're in the front row.
You've gotta love a pro sports league that has a franchise in Alaska, and also a team named the Omaha Beef. (Omaha's mascot, Sir Loin, was named United Indoor Football's Best Mascot, 2007).
* = Not fact-based.
What's Quincy Carter Doing Now? [Lewp's Weblog]