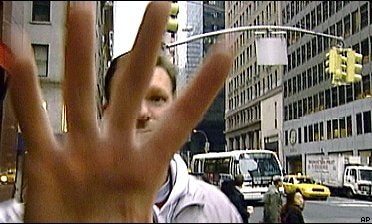 There's been little wailing and no gnashing of teeth in the Bay Area over Tim Lincecum's underwhelming '09 debut on Tuesday. That's because A. The Giants won, and B. Their headliner is actually starting tonight.
When the Giants broke spring training and set up shop at AT&T Park, Randy Johnson was awarded two lockers in approximately the same spot that Barry Bonds occupied two seasons previous. He's the new team guru: Pretty much just as surly as Bonds toward the outside world, but much friendlier with his teammates. From the San Francisco Chronicle:
Yeah, Lincecum is the ace, but everyone defers to Johnson. Noah Lowry gave him his number (51), Cain gave him his locker (on Barry Bonds' old wall). Heck, Bill Neukom gave him his seats. Thanks to the new managing general partner, Johnson's wife and children will be sitting in prime real estate for the Big Unit's Giants debut.
Fun facts: The previous oldest Giants pitcher: Warren Spahn, who was 44 years and 156 days when he threw his final pitch on Sept. 27, 1965. The previous tallest? Johnny Gee (1944-46) and Terry Bross (1993), both 6-foot-9.
Not-so-fun-fact: Johnson is 45, and had back surgery in 2007, meaning that if he makes it all the way through 2009 it will be somewhat of a miracle. Have fun stormin' the castle!
On Lincecum: He lasted only three innings on Tuesday (after never failing to at least reach the fourth in all of 2008), giving up three runs on 78 pitches. This produced perhaps my favorite Lincecum quote of all time: "I just have to take this effort with a grain of rice." Ha.
Of course the fact that it was raining and he didn't get a chance to warm up may have had something to do with it. Anyway, no one here is panicking, and the great McCovey Chronicles came up with this graphic to explain why.
Big Unit Is Giants' Go-To Guy [San Francisco Chronicle]