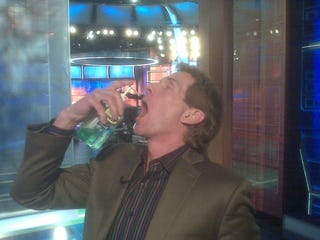 Got an image you'd like to see in here first thing in the morning? Send it to tips@deadspin.com. Subject: Morning crap
It's just a non-stop party over there on the set of First Take, where, of course they too have joined Twitter Nation. The best use of it so far is obviously to take as many candid shots of Skip Bayless as possible. Like this one of him drinking a Mimosa he' s hidden in a hand sanitizer bottle.
**********
Good morning. Get ready. Now go.