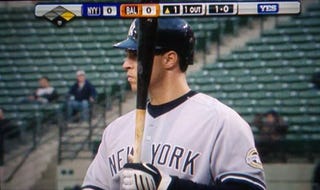 And so we have an early indication of why Mark Teixeira chose the Yankees over the Orioles this offseason. Game 3 of the series today at Camden Yards: Good seats still available.
After a raucous capacity crowd booed the living daylights out of their wayward native son during Monday's opener, Orioles fans decided to pace themselves in Wednesday's second game by not showing up. I don't mean to be a pessimist, but the Yard was half full Wednesday, at 22,856, for their Game 2, 7-5 spanking of the Yanks. Of course, it was fun for Baltimore fans to sit at home and watch this graphic. If only the stock exchange would rise like that.
Game 3 gets underway in a few minutes, and I would suggest the Yankees try to win this one if they don't want to return home next week to find their new stadium burned to the ground.
Meanwhile, Teixeira attempted to clear up the controversy over whether he was a Yankee fan or an Orioles fan while growing up (which seems to be a main point of contention in Baltimore).
"I rooted for Don Mattingly, though, whenever he came here,"Teixeira said. "He was my favorite player growing up. When the Yankees came to town, that's who I rooted for. I loved him. He was my guy. I wore No. 23 every chance I got. So the only time I was allowed to wear Yankees stuff was when Mattingly was coming to town and playing the O's."

So every other day, you were in Orioles' gear?

"Oh yeah. My favorite team was always the Orioles. I've always said that," he said. "But when the Yankees were in town, I'd wear a Mattingly T-shirt and a Yankees hat and root for him."
Hope that clears it up.
Clarifying Teixeira's Childhood Loyalties [Baltimore Sun]
Game Two: Baltimorons, Mascot Taunting & A Late Rally [Fack Youk]