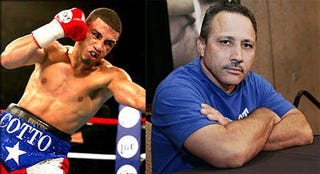 Miguel Cotto's split with his uncle/manager Evangelista Cotto on Wednesday was completely peaceful, except for the ugly brawl and the cinder block through the window of his new jaguar.
Cotto, the WBO welterweight champion, had been at odds with his uncle for some time. But things kind of boiled over on Wednesday during one final argument, when the two came to blows in a Puerto Rican gym. The fight then spilled into the street where further adventure ensued. The Sporting News:
But throw down he did. Evidently, it was an ugly situation, one that saw Cotto's father, Miguel Cotto Sr., step into the fray to try and break it up. Cooler heads prevailed inside the gym as the fracas died down, but it flared up again outside the gym in what was an even more vicious altercation, one that concluded with Evangelista throwing a cement block at the fighter while he was driving, breaking the passenger side window of his new Jaguar.
As as wise man once said, if you can dodge a wrench, you can dodge a ball. This goes for cinder blocks and boxing as well.
A portion of Miguel Cotto's statement following the incident:
"This afternoon, after concluding my training session for my next fight, I sustained an incident with my uncle Evangelista Cotto. This is a family and very personal matter, which is why I ask that you give me the space and respect in my intimacy needed to cope with situation. Let it be known that as of this moment Evangelista Cotto will no longer form part of my corner."
Anyway ... job opening!
It's Ugly Today In Cotto Land For Miguel And Evangelista [The Queensberry Rules]
Police: Miguel Cotto And Uncle Exchange Blows [Associated Press]
Miguel Cotto Fights His Uncle/Trainer, Wins [The Sporting News]