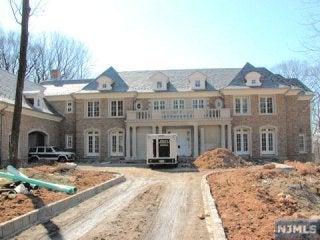 This is what kind of a house $14,900,000 will get you in Alpine, NJ. And unlike Yankee Stadium, it's privately funded.
CC Sabathia paid cash for the six bedroom, 12,000-square-foot mansion on two acres, where among his neighbors are Mary J. Blige, Stevie Wonder, Chris Rock and Britney Spears. "What? My newspaper is missing again! Spears!"
Of course when I saw it the first thing that came to mind was a Tom Hanks movie, The Money Pit. Do these homes not look similar? I can just see CC dangling from the interior second story after the staircase collapses beneath him.
Hmm, did the Jeep Wagoneer come with the place?
CC Safe At Home In Jersey [New York Post]
CC Sabathia Stimulates New Jersey Real Estate Market [Walkoff Walk]