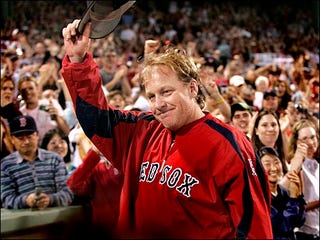 Apparently, even Curt Schilling's personal physicans have big mouths. In an act of either monumentally selfish publicity hounding or a Herculean display of testicular fortitude, Dr. Craig Morgan, Schilling's "personal doctor", said that Curt was so infuriated with the Red Sox handling of his bum shoulder that he'd consider coming back next year to ... gasp...pitch for the Yankees.
Quickly, this news buzzed its way over to Red Sox Nation, causing all of those bloody sock sycophants to bristle. But, Schill being Schill, he half-heartedly extinguished that notion. Kind of:
"The first word that popped into my head, is a word that I think is new to the English language, but everybody understands what it means is 'misremember'. I talked to doc probably within the last week. He's called me a couple of times during my rehab, but I'm not really sure how he got to some of the conclusions he got to."
Clearly, this will be something that Schilling will comment on in his 38pitches blog in the near future. It'll be interesting to see what becomes of Dr. Morgan's role as "personal doctor" to Curt from here on out. The only way to really keep this filed in the "misremember" category is to fire the guy, right?
http://wbztv.com/sports/redsox/… [WKBZ]
Schilling Laughs Off Yankee Talk [Extra Bases]