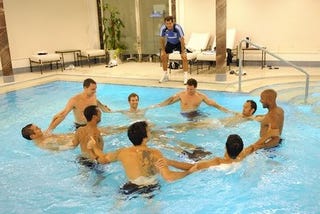 Got an image you'd like to see in here first thing in the morning? Send it to tips@deadspin.com. Subject: Morning crap
How did Chelsea make such easy work of Liverpool in their Champions League showdown this week? It might have something to do with their secret synchronized swimming practices. I assume that whatever the hell these players are doing here is some sort of team building exercise or maybe some kind of low-impact injury-free training. I don't really want to ask questions that I'm not prepared to hear the answers to. Putting silk ties on shirtless dudes is a vital practice technique, however.
Remember—you're not angry with him, you're just pointing.
Behind the scenes with Chelsea FC [Sports Crackle Pop]