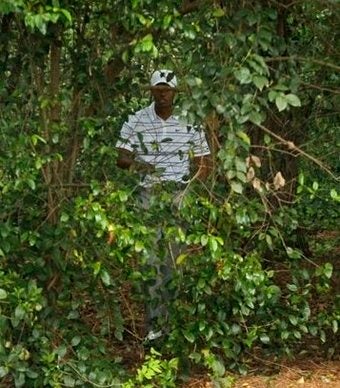 Experts predict that Tigers Woods will use the third round of his major tournament to make a move on whatever golfers might be leading, setting himself up for a dramatic come-from-behind victory on Sunday.
Not only is Tiger Woods the greatest golfer on the planet, but his brain is bigger than a normal human's. If he's at plus-one for the day, that's only because he's biding his time for a back nine charge. Or his clavicle is broken, because that's only way to account for a hitch in swing. If something is preventing him from then we should all be really concerned about it. Whoever does end up winning this tournament—is it Greg Norman? An Asian guy maybe—is just lucky that he doesn't have to play head-to-head against Tiger, because then he would certainly be in trouble.
Anyway, click here for all your Tiger Woods updates. I'm sure he's doing very well. Or poorly. But either way, I'll know you'll care.
The Official Site of the Masters Tournament [Masters
Great Golfers' Brains Have More Gray Matter [Live Science]