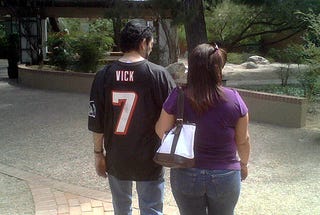 Disgraced illegal dog fight promoter Michael Vick doesn't have a lot of friends left in this world, but we now know he has at least one die-hard supporter at the Tucson Botanical Gardens.
Deadspin Operative Andrew sent us this photo of a lovely spring day in Tucson, Arizona and yes ... that's a signed No. 7 Falcons jersey. Rather than sealing it up in a hope chest for 1,000 years, a la the Shroud of Turin, this man has chosen to display it proudly. I think he's telling the world, "Mr. Vick has served his debt to society and I'm ready to welcome him back to the flock. Also, I think I look pretty good in black."
Well, as usual ... Saturday was a disaster. If you're not into the hockey or bowling, check out the Ali-Frazier documentary on HBO later or maybe head to a night baseball game—or failing all of that, get some rest for the big egg hunt tomorrow. Remember ... Jesus didn't tap out. Are you going to tell the Lamb of God that MMA isn't a sport, you little pansy?
Church Plans "Easter In Octagon"; Says Pastor: "Jesus Didn't Tap Out, He was an Ultimate Fighter" [Riverfront Times]