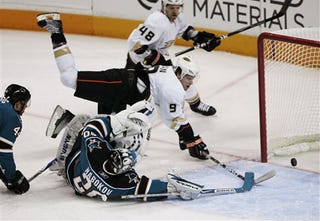 How was your weekend? I had no access to the internet (or TV! The horror), but I trust that things around these parts were quiet and uneventful with little or no boat rocking whatsoever.
Good. For my part, I was kind of hoping that by the time I got back, the NHL and NBA playoffs would down to the heart of the matter, perhaps even at the Finals. I guess it takes longer than a week for that happen. I do see that, per tradition, nothing much of consequence is happening in the NBA's first few games and, also per tradition, the winner of the NHL's President's Trophy is on the verge of being bounced. Seriously, San Jose? Eighty-two games of buildup and you're going to go out like that?
There were other minor developments that caught my eye. The St. Louis Blues are apparently who we thought they were (who are they again?), the NHL actually developed a use for the Internet, the Utah Jazz were apparently eliminated from the playoffs by one dunk, and the Nationals are the best team in baseball history. Oh, I'm sorry ... I meant the worst. It's the Marlins who are an unstoppable juggernaut.
Yes. That makes much more sense.
"St. Louis on the brink of becoming St. Losers" [Edmonton Sun]