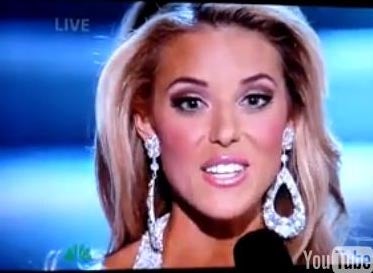 I was THIS close to winning my Miss USA office pool this year, but my choice to win it all, Miss California, choked like the Washington Nationals in the bottom of the ninth.
Of course in all fairness, the question they asked Miss California in the "essay" portion of the competition was complete bullshit. Talk about loaded. Carrie Prejean of San Diego was asked about legalizing same-sex marriage, and foolishly spoke her true feelings. NEVER stray from the script in a beauty pageant!
"We live in a land where you can choose same-sex marriage or opposite marriage," Prejean said. "And you know what, I think in my country, in my family, I think that I believe that a marriage should be between a man and a woman. No offense to anybody out there, but that's how I was raised."

Some in the audience cheered, others booed. The answer sparked a shouting match in the lobby after the show.
The worst answer to a pageant question since this. And speaking of pageant contestants from the Carolinas, the winner was Miss North Carolina, Kristen Dalton. Even though Miss California owned her in the swimsuit competition. Damn it, why did she have to open her mouth?
Kristen Dalton, Miss North Carolina, Crowned Miss USA 2009 [The Huffington Post]