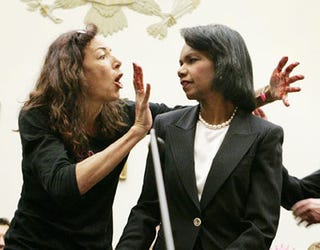 According to sources at HBO, at a production meeting last week, staffers were informed that former Sec. Of State Condoleezza Rice's agent had inquired about her joining Bryant Gumbel's "Real Sports" reporting team.
One of the executive producers (either Rick Bernstein or Ross Greenburg — GreenbernsteinBurg?/ Voltron'd) told producer Kirby Bradley about Rice's inquiry and he told some of the other staffers during a meeting last week so, naturally, many of them went home to quickly tell their friends about it. So here we are. Rice is a huge sports fan, is comfortable in front of the camera, and has probably faced stiffer questions than the ones lobbed by Gumbel when he scribbles imaginary notes during the post-report wrap-up.
But! The general notion is that Gumbel needs to OK whomever the show hires and, since he's one of the more strident anti-GOP media luminaries, he may not give his consent to a former Bush staffer regardless of how qualified she is.
An email to Rice's media relations person Colby Cooper was not answered. Most likely because A.) I only put one "Z" in her name in the email inquiry B.) he's vacationing C.) he's not going to respond to Deadspin anyway.
PHOTO: NYPOST