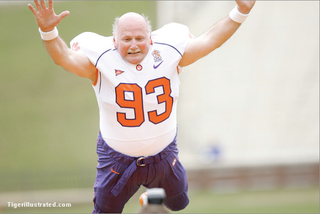 Got an image you'd like to see in here first thing in the morning? Send it to tips@deadspin.com. Subject: Morning crap
This man is risking life, limb, and triple bypass surgery to participate in Dabo Swinney's first annual Tiger Fantasy Camp. This is where regular fellas like you and me get to strap on pads and pretend that our bodies are still indestructible and our lives aren't the soul-crushing tedium we'd always swore they would not be. Take it out on the mat, Hondo.
PHOTO(S): Clemson Rivals
******
Gooooooooooooooood morning. Lather. Rinse. Repeat.