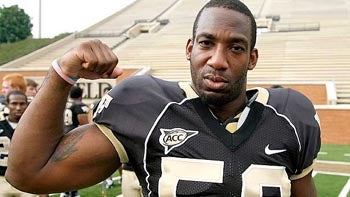 Aaron Curry is shopping himself to the Lions via text message — which technically is SPAM — telling general manager Martin Mayhew he can be had for a song if he chooses him No. 1.
Curry was interviewed on Sirius satellite radio on Tuesday and said that he would accept sign a deal worth less than $30 million, which is what last year's top pick, Jake Long, got. That amount is also what Georgia quarterback Matthew Stafford is expected to demand if he is chosen by the Lions. "I'd be more than happy to accept that deal," Curry said.
I've actually been able to exchange text messages with Mr. Mayhew himself, just discussing the whole situation," Curry said. "He gave me some birthday wishes on my birthday and we talked about just how things would be if me, (and Lions linebackers) Ernie Sims and Julian Peterson were together in one room, just to be able to go out there and wreak havoc. "I told him I look forward to talking to him very soon."
But Stafford did not sit idly by while Curry was sweetening the pot. Stafford said on Tuesday that if the Lions picked him, he would throw in his Chevy Tahoe as a trade-in.
Lions: 'Very Good Chance' Top Pick Signs Before Draft [Detroit Free Press]
Aaron Curry Willing To Accept Below-Market Deal To Be Lions' No. 1 Pick [USA Today]
Matthew Stafford Ready To Trade In Chevy Tahoe [Detroit News]