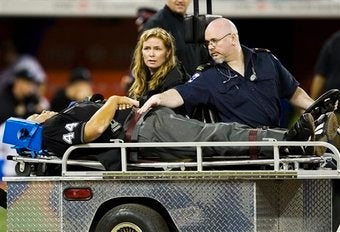 Kerwin Danley was carted off the field last night after getting hit in the head with a broken bat—almost a year to the day since he was plunked in face by a Brad Penny fastball.
Danley was working the plate for last night Rangers-Blue Jays game in Toronto, when Hank Blalock sliced his bat in half on an infield popup. The barrel of the bat came around on the follow through of his swing and plunked Danley on the side of his head, knocking him for a loop. He was taken to the hospital, but reportedly did not lose consciousness.
Ironically, Danley may have been protected by the hockey-style mask that he adopted after getting hit in the face by a pitch last April at Dodger Stadium. (He was wearing the old school catcher's mask back then.) He was out of action for about six weeks as result of that injury and was also knocked out of a game in 2006 when he got hit on the collarbone. So either Danley needs to find a new line of work or he should start calling games from behind a motorcycle helmet and a police riot shield. Or how about the inside of a phone booth?
Home plate umpire Kerwin Danley struck in head by broken bat shard [Canadian Press]
Cruz, Kinsler homer as Rangers beat Blue Jays 5-4 [AP]