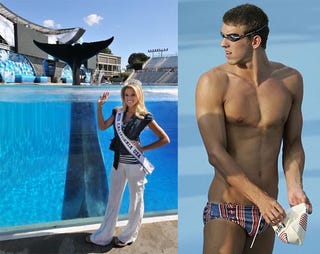 No more of this Miss California runner-up action for Michael Phelps. Apparently, he's decided that he will no longer settle for anything but the real thing with the crown.
You may recall that Carrie Prejean of San Diego caused a bit of a tempest with her Miss USA beauty pageant comments on gay marriage. The bible-thumping may have cost her the crown, but it hasn't scared off Phelps, who is reportedly "casually dating" miss Prejean.
Her grandmother Jeanette Coppolla confirmed to RadarOnline.com exclusively that the beauty queen has been casually dating Olympian Michael Phelps. "Carrie and Michael have been out to baseball games and lunch," Coppolla said. "He always calls her when he is in town and they go out. Carrie knows that he has dated a lot of girls but she enjoys going out with him and isn't serious about being in a relationship with him," she added. "He's a nice guy and she likes him."
I can picture them at lunch; her laughing as she flips chunks of mackerel into his open mouth, him tenderly reading her passages from the Defense of Marriages Act. Sorry, was that mean?
Miss California Dating Michael Phelps [Radar]
Miss California 'Casually Dating' Michael Phelps [USA Today]