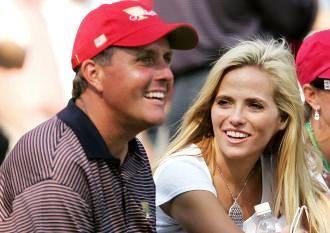 Regardless of what people think of Phil Mickelson, he'll always have an enthusiastic fan base and the admiration of some of his peers, regardless of how douchey he comes off sometimes.
Dogs That Chase Cars snagged this pretty amusing story from The Scotsman newspaper, where Phil Mickelson became engrossed in a little impromptu trash-talking with Nick Faldo during the traditional Champions Dinner before Augusta two weeks ago. For those offended by some ungentlemanly language, put on your earmuffs. Or your eyemuffs. To the tete-a-tete!:
Phil (loud enough for everyone to hear): "Gee Nick, I didn't realise that you are such a big guy. How come you used to hit it so short?"

Faldo: "Listen Phil, when you shoot 19 under par to win the Open at St Andrews you can start giving me a hard time."

Phil: "I understand that. But how come you hit it like such a pussy?"

Faldo: "I played golf the proper way."

Phil: "Yeah, like my wife."
The conversation stops there, but we think Faldo could have easily won that trash-talk battle if he'd just come back with "Did your wife learn how to play that well from having sex with Michael Jordan?" I mean, lots of people know that, right?
Wow...Phil Mickelson Is Pretty Bad Ass [Dogs Chasing Cars]