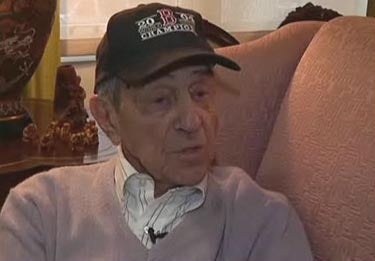 Having learned from the Cubs that to reject a centenarian fan means certain doom, the Boston Red Sox are employing the spry Arthur Giddon as a bat boy for one batter on Saturday.
The 100-year-old retired lawyer will assume bat boy duties at Fenway in Boston's game against the Yankees. And it's not like he doesn't have experience: He had been a bat boy for the Boston Braves in 1922 and '23.
Giddon was born in 1909, and to give you a taste of the kind of baseball carbon dating I'm talking about, the Pittsburgh Pirates won the National League pennant that year. Coming in fifth place: The Brooklyn Superbas.
Also born in 1909: Mel Ott.
"I'm fighting macular degeneration," Giddon confided, "but I can still enjoy watching a game because I recognize the shape of Big Papi (David Ortiz [stats]), and Kevin Youkilis [stats] is easy to spot by the way he bats, jumping up and down."

"I have a lifetime of memories, but they're all fading fast," he said. "Yet my baseball memories have lasted. Did I tell you I met Ted Williams in '39, when he was a rookie? I used to see him walking around Kenmore Square. He seemed like kind of a lonesome guy, so I said 'Hi' a few times, but he never had much to say."
Photo: NBC Connecticut.
Red Sox Grant Wish To 100-Year-Old Birthday Boy [NPR]
Red Sox Fan, 100, Has Lifetime Of Memories, Ready To Make More [Boston Herald]