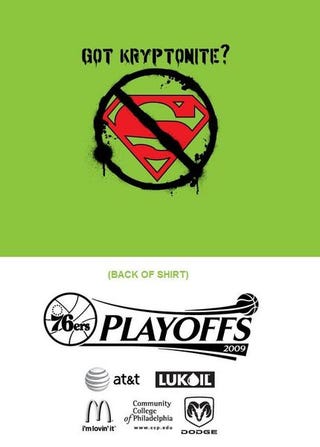 After Andre Iguodala decided to turn into the player everyone's pretended he is during the stunning Game 1 upset of the Orlando Magic, the Sixers are doing everything to take advantage of the momentum.
Sixers marketing geniuses went with the unoriginal Kryptonite T-shirt giveaway idea for the hometown crowd for the Friday and Sunday games at the Wach, but they obviously forgot the potential litigiousness of DC Comics before giving the go-ahead to the campaign. The Knicks had the same trouble after Nate Robinson snatched the dunk contest away from Dwight Howard this past February prompting those ugly Krypto-Nate jerseys. The Sixers ignored the obvious intellectual property hurdles, but finally smartened up. They say it was "design issues" but we know better:
Courtesy of Philly Edge
The issue was one of design and the logo. We thought we had the proper approval process, but it didn't come to fruition, so we had to pull the promotion," Eric Nemeth, Director of Public Relations for Comcast-Spectacor at the Wachovia Complex, said. "Instead, we'll have a White-Out Weekend. We'll be giving all fans white t-shirts on Friday and rally towels (before Sunday's Game 4)."
Better get clearance from the Wite-Out people before you do something like that. They want to get paid, too.
******
Thank you for your continued support of Deadspin. It's getting heavy. Oh and New Yorkers — be sure to tune in tonight to watch Len Berman's final sportscast.