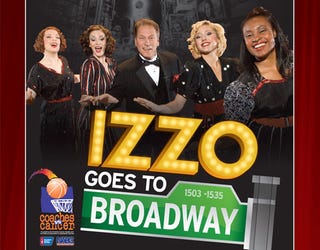 Look...I love Tom Izzo and I hate cancer, but if a Broadway-style musical extravaganza starring an undersized Yooper doesn't have Bad Idea Jeans written all over it, I'll eat my tap shoes.
Tickets are now on sale for Izzo Goes To Broadway, a "Broadway-style performance featuring Tom and Lupe Izzo and six accomplished Broadway performers." It's being staged next month on the Michigan State campus and even though it's a fundraiser for the American Cancer Society, I think even the biggest song-and-dance loving chemo patients would prefer that he just write a check and keep his jazz hands to himself.
Izzo Goes To Broadway was written exclusively as a mini-Broadway show telling the story of Coach Izzo's journey from high school to Michigan State to making it to the top on Broadway. The performance features music from several Broadway standards, including 42nd Street, Cats, Chicago, The Phantom of the Opera and A Chorus Line as sung by professional Broadway performers. Among the six-member cast is one actor with 13 Broadway credits on his resume. One of the other professionals is a Lansing native who attended Waverly schools. Several of the performers are taking a break from their current Broadway roles to be a part of this special production.
Oh, I hope there's dancing. He's like Tommy Tune in reverse.
Izzo Goes To Broadway Tickets On Sale [MSU Spartans]