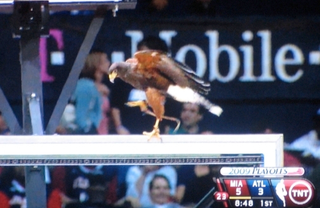 Got an image you'd like to see in here first thing in the morning? Send it to tips@deadspin.com. Subject: Morning crap
Yes, I know that's actually a hawk, because he was at the Atlanta Hawks game (get it!), but when your team is silly enough to unleash lethal birds of prey into a crowd of unsuspecting Southerns then I get to say whatever I want about it. The team contained the bird about as well as they contained Dwayne Wade, too, which is why their series against the Heat is now tied. And that is all I have to say about that.
Rory Sparrow's spontaneous return to Atlanta destroys Hawks' momentum; series knotted 1-1 [Sports Hernia]
You Cannot Stop Spirit, You Can Only Hope To Contain Him [OSG]
* * * * *
Yay, Thursday! Everybody try to stay calm.