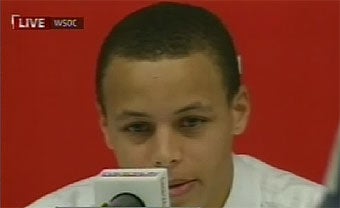 Stephen Curry will forgo his senior season at Davidson and enter the NBA Draft, raining tears all over the Southern Conference—and also breaking a special promise he made to one little blogger.
Silicon Alley Insider editor (and former Denton-ophile) Nicholas Carlson is a graduate of Davidson, as is his younger brother, and during a campus visit two years ago he scooped the world with inside knowledge of Curry's professional basketball plans. Curry personally told him "we have two more years of this" implying, no ... vowing that he would finish his time and graduate as a Wildcat. Then he and Nick hugged and that is a bond that cannot be broken, man. Yet today, Curry went back on this sacred oath and announced he will drop out of school.
Reached for IM comment Carlson said this:
A real dson doesn't quit school
I guess money and fame mean more than hugs.
Curry to go pro [Davidson News]
Exclusive: Stephen Curry Tells Lunchfood He's Staying In School [Nicholas Carlson]