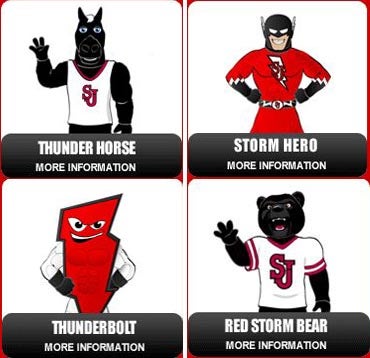 What, no giant talking beer keg? St. John's has a storied and troubled history when it comes to mascots, and the current vote to find a new one is not going to help, it appears.
Here are four of the six candidates — there's also a bird and a dog — from which to choose in the poll at the Red Storm athletic site. The winner will replace Thunder, who was humanely destroyed in the recent past; himself replacing the Red Tuxedo Guy, and before that Chief Blackjack, who reigned until they switched over from the Redmen to the Red Storm in 1994. Anyone I'm missing?
Clearly what's needed here is an unofficial student mascot, as seen to hilarious effect at Dartmouth. Get on that, kids.
Perhaps they should just let Lance Stephenson pick the mascot.
St. John's Mascot Search [Red Storm Sports]