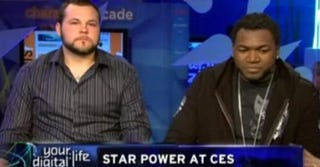 Their series doesn't begin until tomorrow, but David Ortiz thought he'd get in a preemptive strike today against Joba Chamberlain and the Yankees. Hey Joba, please don't throw at our noggins.
"The Troubles" date to 2007, when Chamberlain and Boston's Kevin Youkilis first came to loggerheads late in the season when Chamberlain threw behind Youkilis' head twice in one game. Then last July, the feud gloriously reignited. So Ortiz — shown here with Chamberlain during an appearance on CNBC's Closing Bell during the Consumer Electronics Show in Las Vegas in January of '08 — has decided to ramp up tensions by scolding Chamberlain before the teams even meet.
As we all know, calling people out for past misdeeds is the best way to avoid trouble. Ortiz talked to reporters on Wednesday between games of a doubleheader with the Twins.
"None of that, man — just play the game the way it's supposed to be, and that's about it," Ortiz said, referring to Chamberlain. "This is a guy, as good as he is, the next step for him will be to earn respect from everybody in the league. He's not a bad guy, but when things like that happen, people get the wrong idea."
Wait. Closing Bell? What?
Hey, but if you're a Red Sox fan, who cares about all of that. Kason Gabbard is back! He was acquired from the Rangers and was assigned to Class AAA Pawtucket, where he ... um, wait, why's he in Toronto still playing for the Rangers? What's going on?
Big Papi To Joba: Don't Throw At Us [New York Post]
That's Rich! David Ortiz Gripes About Joba Chamberlain Going After Kevin Youkilis [Subway Squawkers]
Identity Crisis For Newcomer O'Day [MLB.com]