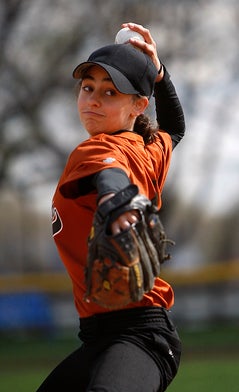 The taunting rings in your ears and burns like fire, and will for years. A girl pitched a perfect game against your Little League team, and you struck out three times. Nelson Muntz approves.
On Tuesday Mackenzie Brown became the first girl to throw a perfect game in Bayonne Little League history. Her reward? Today she gets to pitch for the New York Mets. She'll throw out the first pitch before the Mets take on the Washington Nationals at CitiField — finally Jerry Manuel has a reliable starter — as part of a whirlwind publicity tour that has included newspaper and TV interviews and a mention on SportsCenter.
From the Star Ledger of New Jersey:
Norman Brown expressed countless thanks to a mysterious voice on the other end of his cell phone. He then snapped it shut and turned to his 12-year-old daughter, Mackenzie.

"Yo dawg," he said, thrusting his arms in her direction, "you're throwing out the first pitch at the Mets game on Saturday!"
Brown retired all 18 batters she faced on Tuesday, striking out 12; including the last six of the game in succession. This season is her baseball swan song, however.
When her Little League career ends at the conclusion of this season, she will make the switch to softball. She has enjoyed her heyday playing ball with the boys but has aspirations of a chance to play college sports — either in softball or basketball, in which she's a highly touted point guard.
The Nationals, of course, are also thankful that she's only throwing one pitch today.
Bayonne Girl's Perfect Game Gains National Recognition [Star-Ledger]
12-Year Old Girl Pitches Perfect Game Against Boys, Opposing Players Blame Cooties [Sportress]