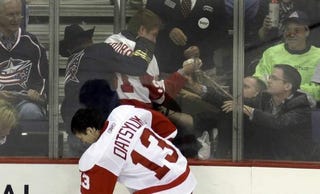 A Red Wings fan throwing an octopus on the Columbus Blue Jackets home ice? Sir, this will not stand! (Scuffle ensues — see photo).
After Greg Goloborodko, a 25-year-old Ohio State student, threw the offending cephalopod during the playoff game on Tuesday at Nationwide Arena, he was subdued by a combination of Blue Jackets fans and security and immediately hauled before the Great and Powerful Gary Bettman. From the Columbus Post-Dispatch:
Goloborodko said he was detained by arena security, threatened by angry Jackets fans and enjoyed a chance encounter with NHL commissioner Gary Bettman before being escorted from the building.

"As I was being held downstairs, Gary Bettman and his security guys walked by," Goloborodko said. "Like any good hockey fan, I recognized my commissioner and yelled out, 'Hey, Commissioner.' "I heard Bettman say, 'I'm not happy about this one bit.' I don't know if he was responding to me or talking about something else."
Other fun facts: The octopus weighed 2 1/2 pounds, and sailed an estimated 60 feet over the barrier and onto the ice. Goloborodko named it Homer, in honor of forward Tomas Holmstrom. It's his fourth career octopus throw.
"I had a nice wind up and the little guy just flew," Goloborodko said.

Elsewhere in Nationwide Arena, Blue Jackets fans pounced on a fan in a Red Wings' No. 91 Sergei Fedorov jersey before he could heave an octopus.
Ejected For Tossing An Octopus On Enemy Ice, Wings Fan Tells His Tale [Columbus Dispatch]