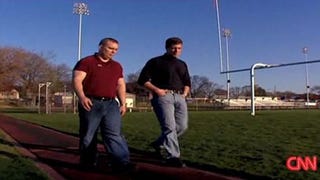 It's all been done before in the film Best of Times, but never in real life have members of rival high school football teams met more than a decade later to decide ultimate bragging rights.
The 1993 winner of the "Fork of the Delaware" trophy will finally be decided this weekend (fortunately I still have my ticket) when the original players from Phillipsburg High School and Easton Area High School meet to hash out their 16-year-old, 7-7 tie. In Pennsylvania they're calling it the Sister-Kissing Game, and copious amounts of heat balm, knee braces and, let's face it, crutches, are being shipped in for Sunday's showdown at Lafayette College's Fisher Stadium in Easton, Pa.
Gatorade, the sports beverage company, announced that it was organizing a replay: the same players, same coaches and the same field. NFL stars Peyton and Eli Manning will serve as honorary coaches for the rival teams. Ten thousand tickets to the game were sold in 90 minutes.

"Typically, you don't get second chances in life. And to get this kind of second chance means the world to both sides of the river," Smith said.
The Phillipsburg-Easton game has been played annually on Thanksgiving Day each year since 1906, making it one of the most enduring high school football rivalries in the nation.
"I didn't want it to end like that," said Bruce Lebitz (above, left), a linebacker for Phillipsburg's '93 team who actually lost 60 pounds for Sunday's game. "This is something that can change my life in more than one way."
Reno Hightower approves.