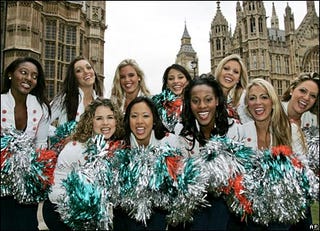 Did my eyes deceive me, or did the BBC report this morning that the Super Bowl is coming to London? Yep, here it is. Boy was Roger Goodell surprised when he found out.
From USA Today:
Update: NFL commissioner Roger Goodell rejected the idea of having a Super Bowl overseas in a meeting with the Associated Press Sports Editors today. "We have never looked at London or Mexico City as a site," Goodell said. His remarks contradict the story the BBC ran earlier.
Please note the "USA" in USA Today, where we get our facts straight and don't go off on crazy midday caffeine tea-and-biscuit highs, reporting whatever we dreamed the night before after watching Eastenders.
Hmm, that may have been a little harsh. Anyway, you don't have to worry for at least four more years — the next three Super Bowls are in Miami in 2010, Dallas in 2011 and Indianapolis in 2012. And I have high hopes for Fresno is 2013.
Of course, these could be mind games by Goodell, who has a history floating this London/Super Bowl story from time to time. I suppose he gets a big kick out of people's reactions. Kind of like all those times you get high and tell the people in the room "Hey man, wouldn't it be cool if they played the World Series in Kansas City?"
NFL Has Had 'Substansive' Talks About Holding Super Bowl In London [USA Today]