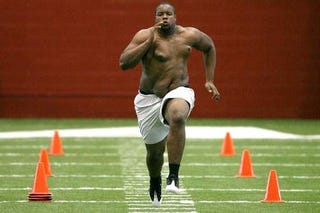 Got an image you'd like to see in here first thing in the morning? Send it to tips@deadspin.com. Subject: Morning crap
Andre Smith was quite the top prospect until he was suspended for Alabama's bowl game. The proof is in the other guys wearing grown up clothes at Radio City Music Hall yesterday. Actually, I think Smith has to go to the NFL Draft wearing this.
The drafting shenanigans don't begin until 4 p.m., so teams have plenty of time to decide and pick this gentleman, if for no other reason, so they can hand him their jersey as quickly as possible. Although, perhaps he can just play like that in the event the NFL ever instantiates Psych Outs.
(Photo found via DJ Gallo, although several people before that probably saw it first.)
It's been quite the respite since my last Deadspin weekend — June 12, 1993 — so find your pogs, tip the walrus, and please, for the love of God, stay out of the dumpster. And now for a math lesson.