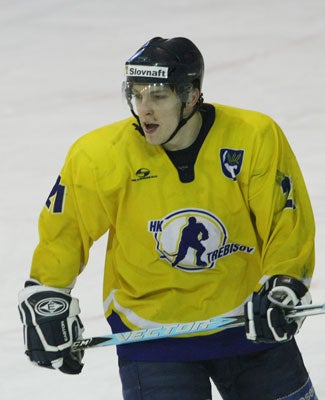 It's never too early for a bizarre story involving murder, cover-up, the Philadelphia Flyers, and the age old dilemma of players and referees not seeing eye to eye.
Ladislav "Laddie" Scurko confessed to police that he murdered Slovakian referee Marek Liptaj, a crime he would have gotten away with had they not found the body a few months ago in a forest. While it doesn't say who found it, I'll go out on a limb and credit Slovakian wood nymphs.
Let us count the ways how this story is batshit goofy:
• In January 2008, while playing for the Slovak team HC Kosice, Scurko apparently stabbed Liptaj 15 times, then buried him.
• Not sure where this information came from, so it's best to just repeat it: Liptaj owed Scurko some money and wasn't entirely punctual in paying up.
• Laddie was drafted by the Flyers in 2006. (In all fairness, you may remember they did pass on Bernie Goetz back in the 80s.)
• And after all that — ALL THAT — he's only looking at 15 to 20 years in prison. So let this be a lesson to you aspiring serial killers. Do it in Eastern Europe. For a twist, make them politically motivated.
(His nickname, to my recollection, is not Laddie, but hey, he killed a guy, so I can call him whatever the hell I want. To me, that's a fair trade.)
Ex-Flyers Prospect Accused In Ref Murder [Philly Inquirer]
Murder In Slovakia [Cult of Hockey]