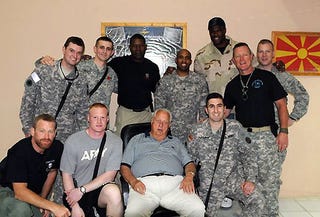 Got an image you'd like to see in here first thing in the morning? Send it to tips@deadspin.com. Subject: Morning crap.
I really do appreciate Tommy Lasorda's efforts to cheer up troops at remote Afghan bases by going along on USO handshake tours. I mean, who wouldn't want to spend a week in a lawless Central Asian doomscape with Hall-of-Famer David Robinson, President Palmer, and the liquid Terminator. That's good times all around. But obviously Lasorda's aging body is not built for 27-hour flight on C-130 cargo planes and dodging homemade RPGs in your Blackhawk.
The man is tired, people. Give him a break!
Chairman Brings USO Show to Remote Afghan Bases [Defense Link]
* * * * *
Hey, it's ... (checking files) ... only Wednesday! Keep your hands and feet inside the car at all times, please.