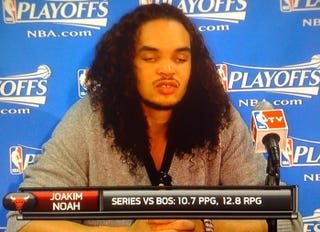 The best first round series anyone can remember concludes tonight as Chicago travels to Boston for Game 7. Contrary to some earlier speculation, "Garquatch" will not be suiting up.
The two teams tip off shortly after 8 pm on TNT. There are no other NBA games on the schedule tonight, so the full spotlight is shining where it belongs. The Bulls are knocking at the door to a memorable upset, and they'll need to find a way to slow down Ray Allen to finish the task.
This is your DUAN! post as well as an open thread for the game. If you're watching the fight tonight please comment along right here.
*****
Thanks for joining me here today, I'll be back if anything crazy goes down.