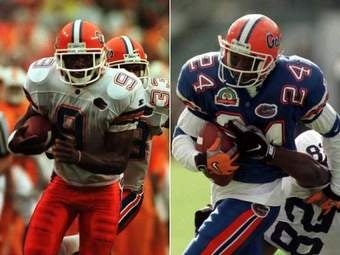 Anthone Lott is a Florida Gator through and through. He's so devoted to his alma mater and his former championship teammates that when he wants to swindle someone in a crooked construction deal, only fellow Gator cornerbacks will do for marks.
The state of Florida has filed charges against Lott accusing him of theft, fraud and money laundering, for a shady construction deal in which Lott took money from a bank construction loan, and then did none of the work he was hired for. The contractor on the other end of that loan? Joseph Weary, another former Gator cornerback and Lott's teammate on the 1996 national championship team. Urban Meyer would be so proud.
Lott and Weary were actually involved in a civil suit over these accusations, but settled out of court last year. Now state prosecutors have lodged criminal charges against Lott, so it's not over yet. Our only hope is that Steve Spurrier will be called as a witness and locked up for contempt of court when he refuses to remove his visor.
Ex-Florida Gator Anthone Lott faces charges from former teammate Fred Weary [The Gainesville Sun]