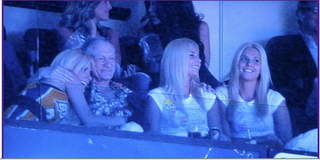 Got an image you'd like to see in here first thing in the morning? Send it to tips@deadspin.com. Subject: Morning crap
Hugh Hefner popped up at the Staples Center to cheer on the Lakers to victory in between bouts of letting his new trio of jiggly young things fawn all over him, feed him soup, or whatever it is those lonely young women do to keep their footing in Hollywood. Jimmy Johnson should reconsider his approach.
(Screen grabs: Sports Hernia'd, Friends Of The Program)
******
Good morning. It's Thursday. It's raining. Let's sulk.